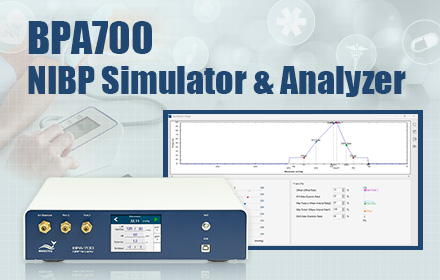 [2023/7/28] WhaleTeq, the world's leading testing provider, announce the launch of its latest product - BPA700 Non-invasive Blood Pressure Simulator & Analyzer (referred to as BPA700). This product leads the innovation wave of BP monitor testing, bring users unprecedented accuracy and versatility, and meet the continuous pursuit for the BP monitor testing of the medical industry.
BPA700 is a revolutionary non-invasive blood pressure simulator that complies with IEC80601-2-30. It is compatible with various types of blood pressure monitors, including wrist, arm and tunnel type, etc., to meet the multiple needs of users. Its wide display range includes dynamic blood pressure (10-300 mmHg) and static pressure (20-400 mmHg), which can fully test the performance of BP monitor.
The main feature of BPA700 is its adjustable pulse envelope. In the past, when R&D engineers used blood pressure simulators to test the BP monitor's performance, they would obtain systolic and diastolic blood pressures that were different from the set values. At this time, if the pulse envelope of the simulator can be set and adjusted, the blood pressure position can be calibrated to be consistent.
In addition, WhaleTeq's high-end products are equipped with Software Development Kit (SDK), which allows users to develop customized or automated test software, further improving the ease of use and automation of the test device. The auto-sequence helps users to easily create semi-automatic test procedures, greatly improving test efficiency.
 
BPA700 also provides optional Standard Assistant Software, which includes the test items required by medical standards into the test of BPA700, reducing the time for R&D engineers to study regulations by themselves and ensuring compliance. The software also provides automatically generated test reports and saves test results in HTML files, which helps to manage records easily.
WhaleTeq also continues to optimize the performance of BPA700. In the future, it will provide the waveform data playback function, allowing users to import data during the test process, increasing the convenience of testing.
BPA700 Non-invasive Blood Pressure Simulator & Analyzer brings innovation to s BP monitor testing. It can ensure the compliance, achieve a more flexible and smoother testing process, and at the same time meet the needs of the global medical equipment market for high-performance test device.
More product information: BPA700
---