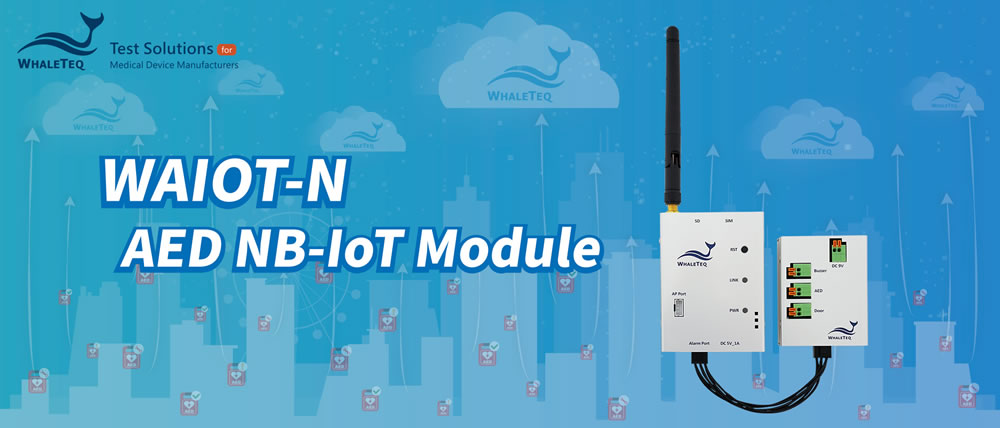 An AED (Automated External Defibrillator), which is often seen in public places, is the key to saving lives in an emergency. It usually has a self-test function performed every day to confirm whether the AED can operate normally. However, a massive amount of AEDs means their installation sites are widely distributed. Confirming the self-test results one by one every day is not only labor-intensive but also unable to respond to abnormal status immediately, not even able to take records at any time. To solve the problems on AED self-test management, Taiwan's professional test solution provider — WhaleTeq announced today (15) the launch of the AED NB-IoT Module WAIOT-N for monitoring AED status and self-test results.
The WhaleTeq AED NB-IoT Module WAIOT-N includes the main unit and the IoT bridge, which can be installed in the AED cabinet, allowing users to remotely monitor the AEDs with NB-IoT (Narrowband Internet of Things) technology and eliminate the need to check self-test results on-site. The WAIOT-N main unit receives the audio frequencies of the AED's daily self-test results, and automatically identifies the results represented by the audio frequencies; when used with the IoT bridge, it can detect the opening and closing of the AED cabinet, whether the AED is in the cabinet, etc. The self-test results and AED status will be uploaded to the user-owned management system or the WhaleTeq AED Intelligent Management System (AIMS) in real time, so users can know the AED operation status instantly and establish digital records.
By using the WAIOT-N with the WhaleTeq AIMS, users can keep up with the current status of all AEDs through the display of lists and different lights. In addition to early finding out AEDs that need further inspection and maintenance, they can also immediately notify on-site personnel to confirm the status of AEDs. In the future, the WAIOT-N can integrate with different emergency systems to remotely activate the buzzer of the cabinet to tell rescuers where the AED is and assist them in seizing the prime time for first aid.
The AIMS is an after-sales intelligent management system developed by WhaleTeq for AED distributors, maintainers, and leasers. It can record AED inspection data, abnormal status notifications, and other information for the long term to ensure AED availability. The WAIOT-N launched this time works with the AIMS to reduce the risk that there may be no manual records and reports after the AED self-test abnormality is issued, and establish a tracking system and AED self-test result history.
WhaleTeq provides the WAIOT-N and AED-related management and test products to meet the needs of research and development, production, and after-sales services on AEDs; and aims to assist medical device manufacturers and maintainers in focusing on developing products and providing services with quality assurance and maintenance efficiency improvement.
---