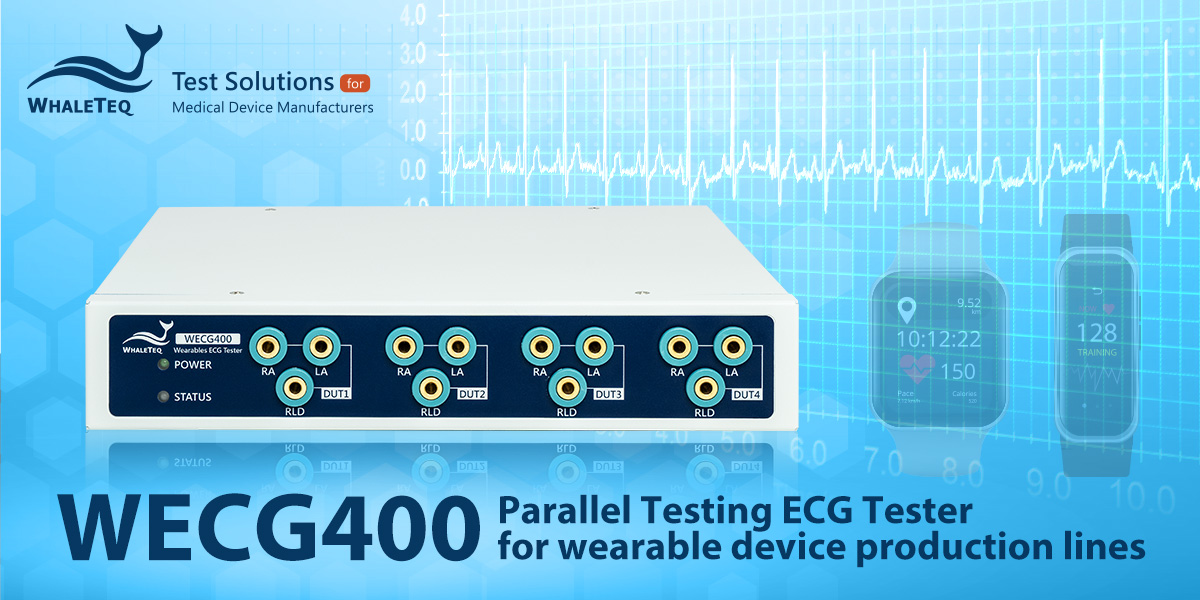 In recent years, more wearable devices come with the ECG function, enabling users to record the heart rate and ECG waveforms at any time as a reference for monitoring their physiological status. To satisfy the need of increasing productivity on wearable device production lines, Taiwan's professional test solution provider-WhaleTeq announced today (28) the launch of the Parallel Testing ECG Tester WECG400, which provides parallel testing to simultaneously test the ECG function on up to 4 wearable devices.
The WhaleTeq WECG400 is the first parallel testing ECG tester designed for production lines and effectively accelerates testing time. Moreover, the tester assists wearable devices in conforming to medical standards by integrating IEC 60601-2-47 test items- dynamic range, input impedance, frequency response, etc., and outputs 7 types of standard ECG waveforms to ensure that manufacturers' products adhere to regulatory requirements.
For customized testing based on different manufacturers, the WECG400 reproduces clinical data or user-defined waveforms by playing raw data to verify that the products meet the manufacturers' specifications. Besides, to easily organize automated testing and simultaneously test up to 8 or more devices, the SDK (Software Development Kit) of WECG400 allows manufacturers to flexibly develop related programs for establishing automated testing procedures and connecting multiple WECG400 to achieve the most suitable test solution.
The WECG400 integrates the required equipment on production lines to optimize testing efficiency while ensuring product quality and a stable production process, and it's easy to deploy wherever needed with the rack-mountable 1U height design. Through the WECG400, WhaleTeq fulfills the ECG testing needs of wearable device manufacturers, helps achieve the goals of mass production, quality assurance, and productivity improvement, and further ensures device performance in operation.
---