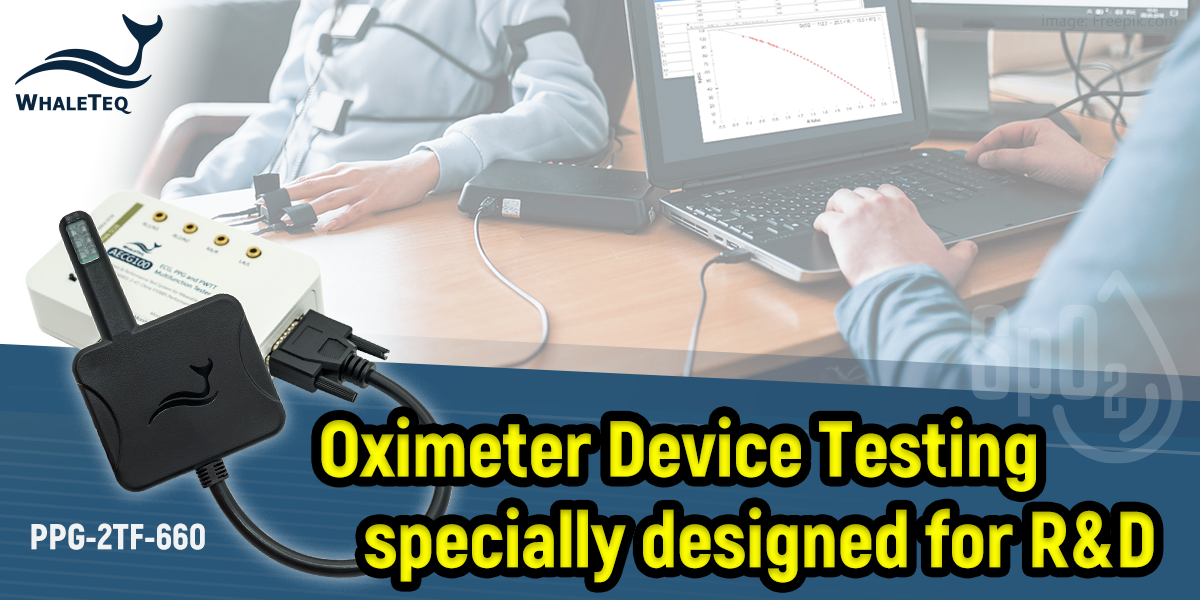 A finger clip oximeter can measure blood oxygen saturation in a short period of time, which helps us get a preliminary understanding of our own health. However, have you ever had any idea on how much testing and verification does an oximeter need to ensure its accuracy and precision before launch? Taiwan's professional test solution provider- WhaleTeq has targeted the oximeter market, and today (10) announcing the launch of the world's first transmission SpO2 performance tester PPG-2TF-660, specially designed for oximeters.
WhaleTeq latest product PPG-2TF-660 provides a solution to the difficulties that oximeter manufacturers may face. It can simulate the output of red light and infrared light analog signal to test heart rate and blood oxygen saturation (SpO2) function; provides transmission rates that simulate 5 finger types varying on color brightness and thickness, and neonatal foot test mode for measuring newborns; simulates 14 types of indoor and outdoor ambient light signals. It's suitable for the development of transmission PPG products such as finger clip oximeters and patient monitors to test performance.
The PPG-2TF-660 works with the AECG100 main console (vital signs multifunction simulator) and software, as the first transmission SpO2 performance tester designed for R&D in oximeter manufacturers. It can be used to test heart rate, PPG, PWTT and SpO2, and can arbitrarily and greatly adjust SpO2 parameters, including R /IR AC, DC, PI values to confirm the accuracy of the oximeter.
In order to facilitate users to perform automated testing, WhaleTeq provides SDK (Software Development Kit), which supports a variety of platforms, including Windows, Linux, Raspberry Pi, etc., for users to write automated testing software to further improve testing efficiency. At the same time, in order to speed up the development process, the PPG-2TF-660 can play raw data for repeated verification, and reproduce the clinical recording or customized waveforms.
AECG100, a vital signs multifunction simulator, is specially designed by WhaleTeq for wearable devices. By connecting different optical modules, heart rate, PPG, and reflective SpO2 tests can be performed. The PPG-2TF-660 transmission SpO2 performance tester launched this time can further improve the functions of AECG100 and meet the needs of more medical manufacturers to develop products.
For many years, WhaleTeq has been deeply engaged in the field of medical device testing solutions. WhaleTeq understands the testing needs of medical device manufacturers when developing products, hoping to help them focus on product research and development, and thus launch their medical devices in a more efficient way.
---